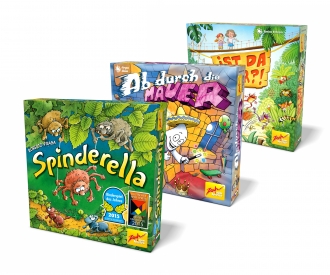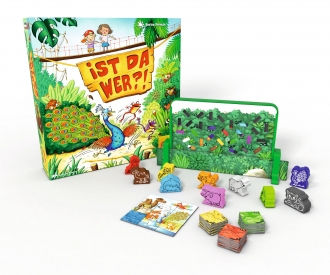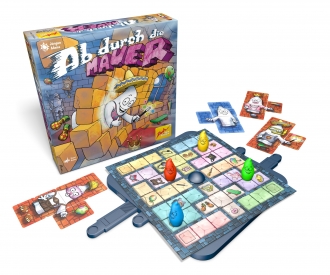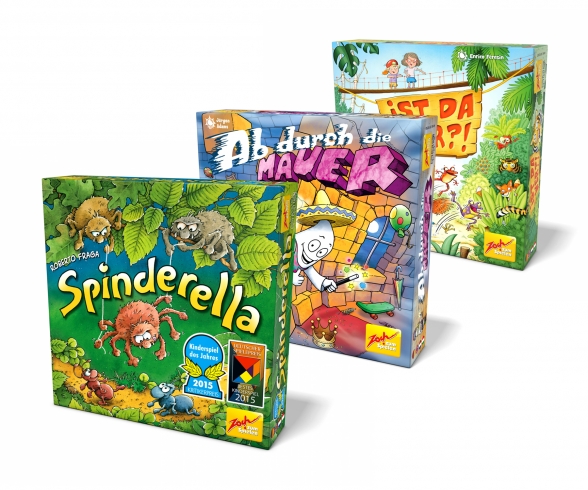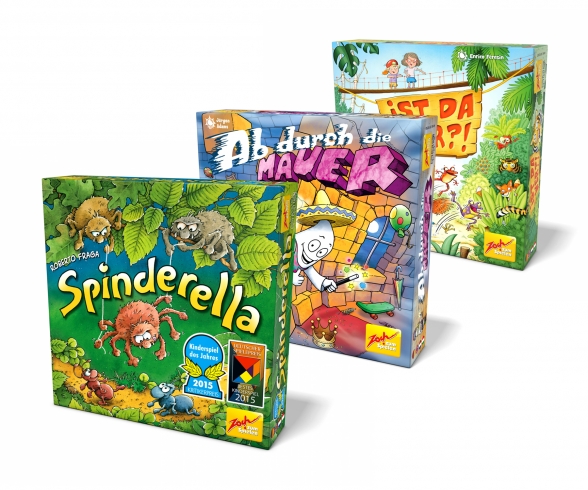 Quantity:
1
2
3
4
5
6
7
8
9
10
11
12
13
14
15
16
17
18
19
20
21
22
23
24
25
26
27
28
29
30
Delivery time 1-3 working days within Germany
Product bundles consisting of: Ist da wer?! | Spinderella | Ab durch die Mauer
Article number: 601105137
Product: Ist da wer?!

Ten pairs of animals have hidden in a large three-dimensional bush. But only a few blobs of colour can be seen through the slits between the branches. Look carefully and find out which colours are not there and thus recognise which animals have made themselves invisible behind the thicket at the very bottom of the bush. New animals retreat into this hiding place in each round of the game.
Whoever has found out which animals have just hidden in the thicket quickly grabs their wooden figure! As a reward, everyone who is right gets picture cards from which they can put together their own little zoo.

"Ist da wer?!" by Zoch is the fun and colourful animal search game about visible and invisible colours. It encourages children's observation, powers of deduction and attention. Author Enrico Feresin came up with it. It was illustrated by Gabriela Silveira.
Article number: 601105077
Product: Spinderella

All good things come from above … Spinderella lets herself down on a thread with the help of her two spider brothers. Swinging high above the ground, she muddles up the marathon of the forest ants. "Snap" – you can hear it throughout the entire forest when the alert spider girl maneuvers another one of the little fellows back to where he started from. But the ants aren't dumb either – they use a hollowed piece of bark for cover. The players try to outdo one another in catching the opposing ants. At the same time, they compete in getting their own cutie-crawlies across the finish line. Spinderella provides playful fledgling spiders and wiry ants with a tingling three-dimensional playing experience in which many a nerve fiber will be hanging by a thread.
Article number: 601105134
Product: Ab durch die Mauer

Ab durch die Mauer is a game with completely new elements: A rotating gameboard, underlain with magnetic sliders, gives the game a magical and spooky touch – not only in terms of the visual appearance. On each game turn, you need to carefully consider how to govern all effects so that you accomplish your own objectives. In this suspenseful game, one surprising challenge follows another.
Warning! Not suitable for children under 3 years due to small parts. Choking hazard!
Article number: 601105137
Product: Ist da wer?!

Included:
1 big bush frame filled with 20 round disks
1 visual cover ("thicket")
10 wooden animals
36 image tiles
Art.Nr.: 601105077
Art.bezeichnung: Spinderella

Included:
1 ant running field
1 spider web field
2 spiders (threadless)
1 thread spider with 2 magnetic suspensions
12 ants in 4 colours
1 spider cube (white)
1 ant cube (brown)
1 picture cube (green)
1 piece of bark
4 connecting trunks
4 push buttons
1 rule of the game
Article number: 601105134
Product: Ab durch die Mauer

Included:
1 castle wall
1 game board
4 ghosts
3 floor sliders with embedded magnets
20 disguise cards
1 plug
1 rule of the game