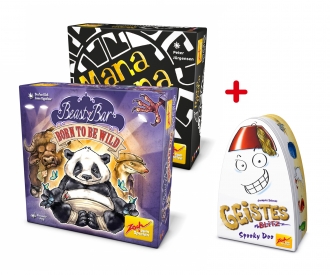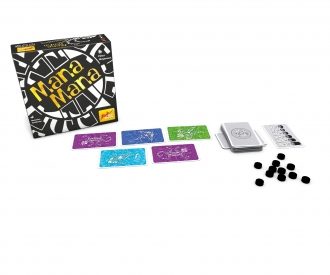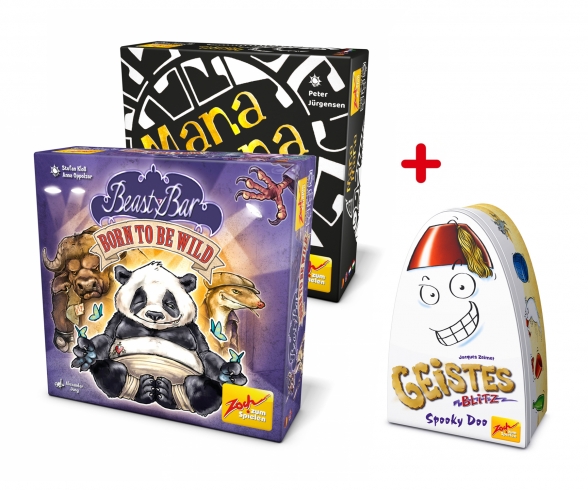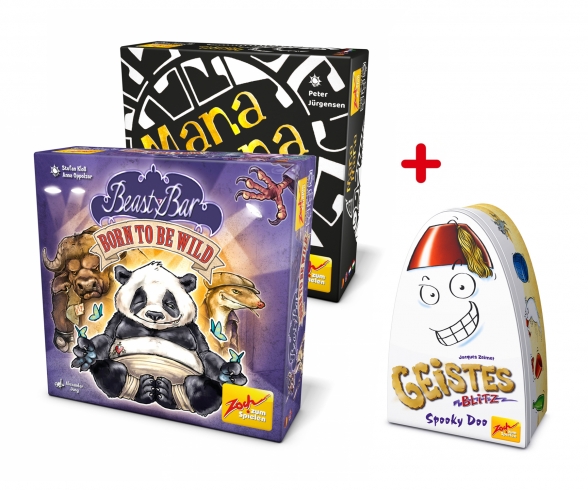 Quantity:
1
2
3
4
5
6
7
8
9
10
11
12
13
14
15
16
17
18
19
20
21
22
23
24
25
26
27
28
29
30
Delivery time 1-3 working days within Germany
Product bundles consisting of: Ghost Blitz Spooky Doo | Beasty Bar Born to be wild | Mana Mana
Article number: 601105085
Product: Ghost Blitz Spooky Doo

Geistesblitz-Spooky Doo is another ingenious brain twister in the popular reaction game line.
Packaged in the showcase-worthy metal box, Spooky Doo features two brand new items, the barrel and the fez, once again with smart-fresh rules. The fez can be put over the other items. And there you go, searching for objects that are neither on the playing cards nor on the table.
If only you knew what you were looking for. As always, only a real flash of inspiration will help!
Article number: 601105143
Product: Beasty Bar Born to be wild

The Beasty Bar game attracts more and more animals to the red carpet in front of the legendary bar. With Born to be Wild, it is the third time that twelve "beasts" show up there. The new animals add even more cunning feints, wild dynamics, comical situations, and finesse to the game.
Following the well-known rules of Beasty Bar, all the animals of the "extended customer base" can be combined. Consequently, Born to be Wild can be played as a stand-alone game, but also together with all the other animals from the two previous Beasty Bar games.
Article number: 601105163
Product: Mana Mana

Those who form suits of up to 6 cards are rewarded with valuable MANA pieces. If you only keep an eye on your own display, you won't get far
because you may only add cards of already played suits to OTHERS! So if you help your fellow players in a particularly lucrative way, you do yourself some good. Whoever "selflessly" like that lets himself be showered with MANA and rows of cards which have helped the most to his fellow players ... and wins.
For 3-4 players, 8+ years.
Warning! Not suitable for children under 3 years due to small parts. Choking hazard!
Article number: 601105085
Product: Ghost Blitz Spooky Doo

Contents:
1 spirit
1 bottle
1 mouse
1 barrel
1 fez
1 Instruction
Article number: 601105143
Product: Beasty Bar Born to be wild

Contents:
52 animal cards
1 bouncer card
1 Beatsy Bar card
1 ejection card
1 That's it card
2 overview sheets in 4 languages
1 game rule
Art.no.: 601105163
Article number: 601105163
Product: Mana Mana