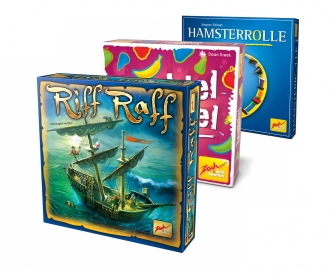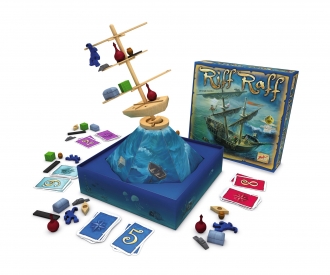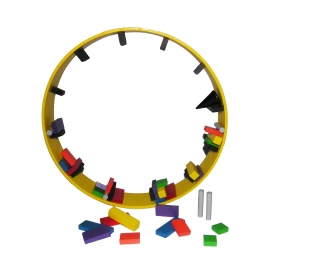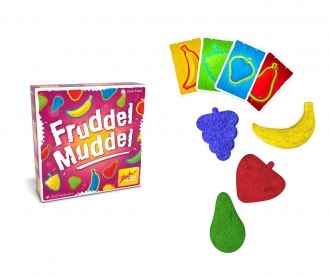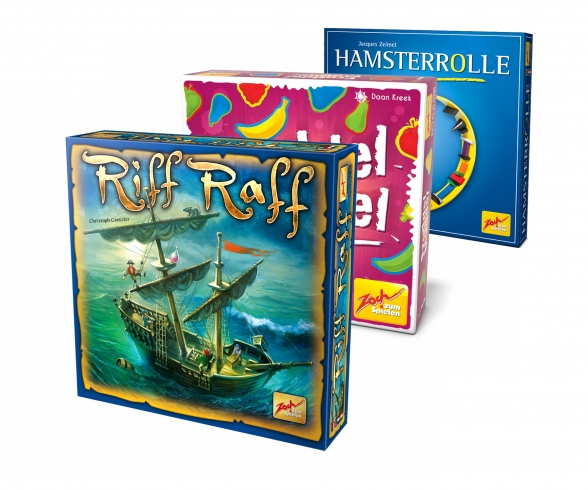 New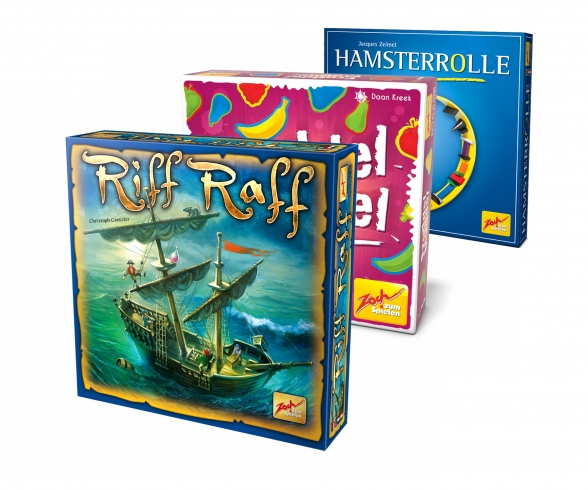 €126.97 (-29%)
€89.99
incl. VAT
free shipping
(within the EU)
Quantity:
1
2
3
4
5
6
7
8
9
10
11
12
13
14
15
16
17
18
19
20
21
22
23
24
25
26
27
28
29
30
Delivery time 1-3 working days within Germany
Product bundles consisting of: Riff Raff | Hamsterrolle | Fruddel Muddel
Article number: 601105012
Product: Riff Raff

Neptune is raging! The rats are leaving the ship. The sailors are on the ropes and the cargo is shifting all over the deck lickety-split. Only your steady hand can calm all the waves!
The players riskily stow away their cargo high up in the yardarms. Many a hardened sea dog turns out to be just an ordinary seaman who has trouble with his balance just halfway up the mast. Whoever will instinctively defy gravity - and catch even free-falling cargo as fast as lightning - will go down in the annals of the seven world oceans...

Unique in its equipment and technical finesse, Riff Raff transforms any playing table into the ferocious seabed of a rolling galleon.
for 2 to 4 Players, Ages 8 and up
Article number: 601133500
Product: Hamsterrolle

Hamsterrolle plays a role again! This daredevil thrill for holders of the ring brings turning moment on the game table. This loopy roleplay boasts equipment of excellent quality and has for more than ten years excited every game round with finest gameplay. Especially as framing one another is encouraged!

for 2 to 4 Players, Ages 7 and up
Article number: 601105168
Product: Fruddel Muddel

In the centre of the table, four fruits made of padded fabric are waiting to be snatched by the players. But which one is the right one?
Simultaneously, all players uncover a playing card that shows three fruits in colour-coded form, although at first glance only one variety is visible. Only those who pay attention to the colours of the background and the fruit outline can recognise which three fruits are, for example, meant by a grape-blue strawberry with a pear-green outline. The player who sees through the colour-coded vitamin dispensers on all the playing cards in a flash grabs the right fruit from the centre of the table. The fastest and cleverest fruit picker wins.

"Fruddel Muddel" is the fruit and colour muddle that adds zest to any family game night. With its entertaining 15 minutes, it is also ideal as a party game. It was developed by author Daan Kreek and illustrated by Oliver Freudenreich.
Warning! Not suitable for children under 3 years due to small parts. Choking hazard!
Article number: 601105012
Product: Riff Raff

Contens:
1 wooden ship made of 10 pieces
40 playing cards in four colours
32 cargo pieces (four sets of eight shapes each)
2 wave setters
1 set of playing and assembly instructions
Article number: 601133500
Product: Hamsterrolle

Contens:
1 hamster roll with wooden barriers
28 game pieces in 7 colours
1 black wooden pyramid
1 game manual
Article number: 601105168
Product: Fruddel Muddel

Contens:
55 playing cards
4 padded fabric fruits
Instructions: DE + EN + FR + IT