---
Sort by:
Top sellers
New
Price ascending
Price descending
Filter
---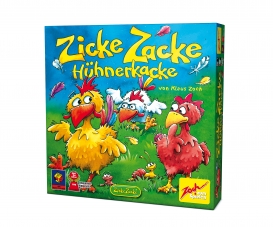 Children's games
Zicke Zacke Hühnerkacke
601121800
€26.99
Zicke Zacke Hühnerkacke is the award-winning memory game about a chicken farm. The chickens are all spruced up with a beautiful wooden tail feather, and are keen on plucking these feathers from the other chickens to adorn themselves. The game starts at a great pace: when you turn over a yard tile with the right motif, your chicken hops to the next plate. If your chicken manages to overtake another chicken, it plucks out all of its feathers and puts them on his own tail. This speedy chicken rally is a classic and enthuses not only children. For 2 to 4 Players, Ages 4 and up
More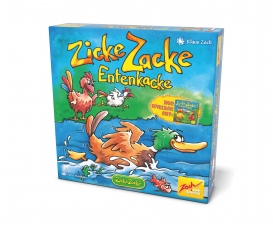 Children's games
Zicke Zacke Entenkacke
601105196
€14.99
With Zicke Zacke Entenkacke Zicke Zacke Hühnerkacke you can also play with 5 or 6 chickens. In addition to two beautiful ducks, the game now includes chicken poop, which is not to be stepped on! For 2-6 players, aged 4 years and up.
More
New